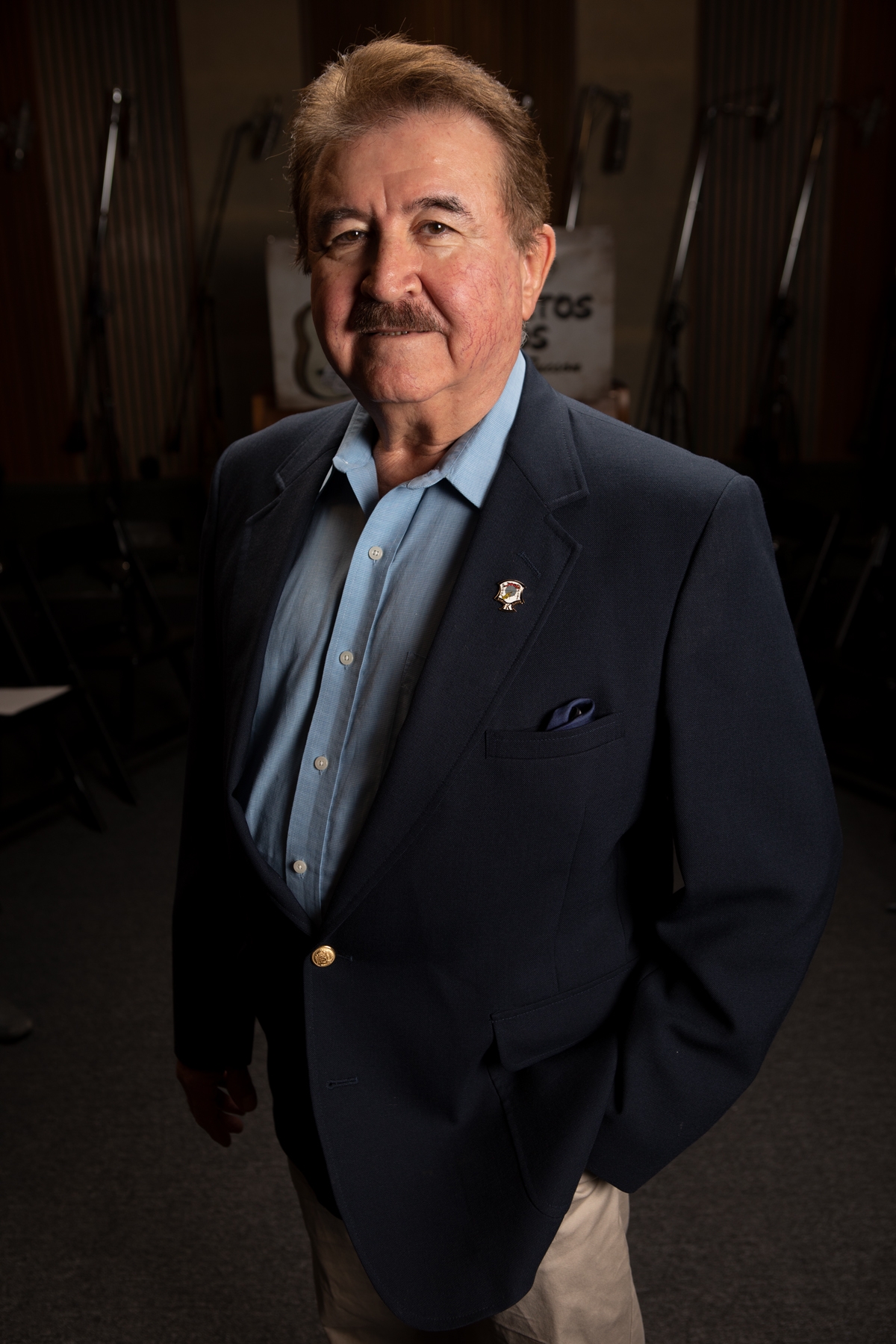 Gilbert Velez
Years in the Changos:
4 1/2
List all of the instruments you played while in the Changos?
Vihuela, Guitar, Guitarron
Which high school and/or college did you graduate from? Year of Graduation? What did you major in?
Salpointe Catholic HS -1967
University of Arizona – Bachelor of Arts, 1967 to 1973 Art, Art History, minor in Music
Air National Guard, Air Force – Accounting and Finance Specialist ,1967 to 1973 – Honorable Discharge
Any Graduate schooling/degree?
UCLA – Ethnomusicology – two Graduate Credits 2006
University of Phoenix –  Seven Graduate Credits, Education, 2005 to 2006
Pima College – Sixteen Graduate Credits, Education, 2006 to 2007
VanderCook Music College, Chicago – Twelve Graduate Credits and 160 Professional Development hours in Mariachi Music Pedagogy, 2011 to 2018
A short list of jobs you've held:
1972 -2018, Professional Mariachi musician with Mariachi Cobre and International Mariachi America.
1974 – 2014, IKKA Kenpo Karate, Inc. – President and Grand Master 10th Degree Black Belt 
1985 – 2001, El Mariachi Restaurant and Cantina, Inc – President
2014 – 2021, Kenpo International, Inc – President and Grand Master 10th Degree Black Belt
2001 – 2017, University of Arizona School of Music – Director and Instructor of Mariachi Studies
2004 – 2021, Nogales High School, Director and Teacher of Mariachi Music Program.
Please list any awards and/or letters of achievement.
1982 – International Mariachi America wins 1st place nationally and 2nd place internationally at the San Antonio Mariachi Conference.
1983 and 1984– International Mariachi America wins 1st place at the Tucson International Mariachi Conference.
1985 – International Mariachi America wins 1st place at the Edinburg Music Fringe Festival against 1,500 other groups.
2015 – Salpointe High School "Distinguished Alumni Hall of Fame" award.
2020 – Salpointe High School "Distinguished Alumni Hall of Fame" award as a member of Mariachi Cobre.
I am THE original Chango. I met Father Charles Rourke when I was 10 years old in sixth grade at All Saints Catholic School and Church where he was a pastor. I knew him when I was an altar boy, a Boy Scout and on the school athletic teams. In the seventh grade he started three of us students as a musical singing trio with him on a piano. In the eighth grade he learned that we could play guitars and there began an idea of forming a Hispanic musical group that would become the original 'Los Changuitos Feos.'  
In 1973, I started the martial arts and met Kenpo Grandmaster Ed Parker in Pasadena, California He was Elvis Presley's bodyguard and he also discovered Bruce Lee, Chuck Norris and he taught many Hollywood and Beverly Hills producers and stars. He was also a musician and for some reason we really bonded, and I became one of his private Kenpo students and remained so for seventeen years. As far as I know only Elvis and myself were his strictly private students. Mr. Parker passed away suddenly in 1990 and in time I became the highest-ranking 9th degree Black Belt in the world under his IKKA Organization. I ended up traveling one million miles teaching Kenpo Martial Arts throughout the world from New Zealand, through South and Central America, Mexico, USA, most of Europe, Greece, and Macedonia. I became the only and last Master of Ed Parkers IKKA.
1981, I left Mariachi Cobre and formed the International Mariachi America. After winning various awards I opened "El Mariachi Restaurante y Cantina" in Tucson, Arizona. My Mariachi America performed there nightly. Soon we won many food awards as I designed recipes such as "Tequila Shrimp flamed in Tequila", "Mango Delight Ice Cream", "Cabelas de Camaron" and "Green Corn Tamales". It became a world-famous restaurant that lasted 16 years until 2001 as the economy of Tucson and USA changed dramatically with the 911 tragedy.
2001, I closed my restaurant and the University of Arizona hired me to head up the Mariachi program at the UA School of music.
2004, Nogales High School offered me a position as Mariachi director for the school district and teacher at Nogales high School. I taught at the University of Arizona at the same time until 2017.
2008, 2009, 2010, I became a panelist for the National Endowment for the Arts and would travel to Washington DC to review grant applications in "Arts for Children".